If you're in the market for 3D rendering & Visualization, you've come to the right place. In this blog post, we will list 16 of the top 3D rendering companies in the world.
3D rendering has become an essential part of the architectural design process, and these companies are at the forefront of this rapidly growing field.
So what are you waiting for?
Check out our list and find the perfect 3D rendering company for your next project!
16 Top 3D Architectural Rendering & Visualization Companies in World 2023
Arch Visual Studio – Best 3D Rendering Company Houston, Texas, USA
Houston's top 3D Rendering Service Studio, Arch Visual Studio, offers everything from exterior rendering to virtual reality. With over 11 years of experience, our team is equipped to provide all the Real Estate 3D renderings & visualizations you need to bring your project to life.
Their team of architectural visualization and 3D rendering professionals has over 10+ years of experience. Over 1200+ 3D Architectural Rendering Services projects have been completed with 70+ clients around the world.
If you are looking for 3D Visualization, 3D Architectural Animation, and Rendering services for your project or project, then this is the best 3D Rendering Studio for you.
One of the best things about Arch Visual Studio is that they offer a 100% free quotation with accurate pricing that is based on your needs and time.
For that reason, new customers can trust them with ease, and they will start working with them right away.
You should definitely use Arch Visual Studio for your next project.
Also, Check out our 3D Architectural Visualization Portfolio
Our Services:
3D Exterior Rendering Services
3D Interior Rendering Services
3D Architectural Animation Services
Vrender – Best 3D Rendering Company In Newyork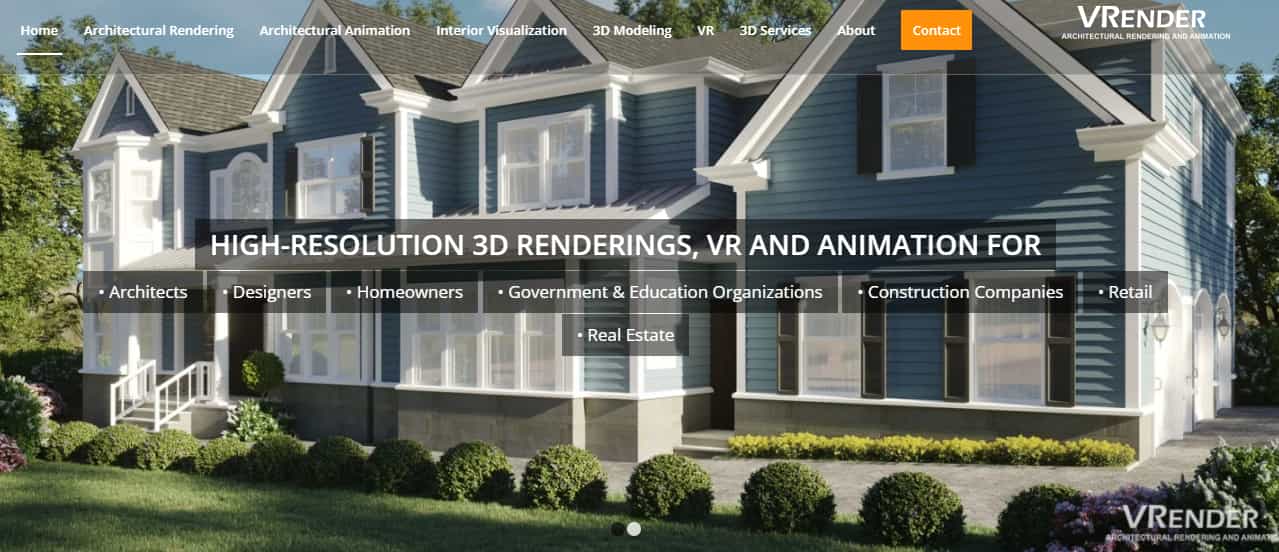 New York-based Vrender is an architectural design firm specializing in 3D visualization and animation. The company has worked on a variety of real estate projects, both in the US and abroad.
In addition to traditional rendering services, Vrender also offers virtual reality (VR) and augmented reality (AR) experiences. This allows clients to get a realistic sense of what a space will look like before it is built.
The company's work has been featured in numerous publications, and its team has won several industry awards. For anyone looking for high-quality 3D renderings, Vrender is an excellent choice.
RealSpace – Top 3D Visualization Company Vancouver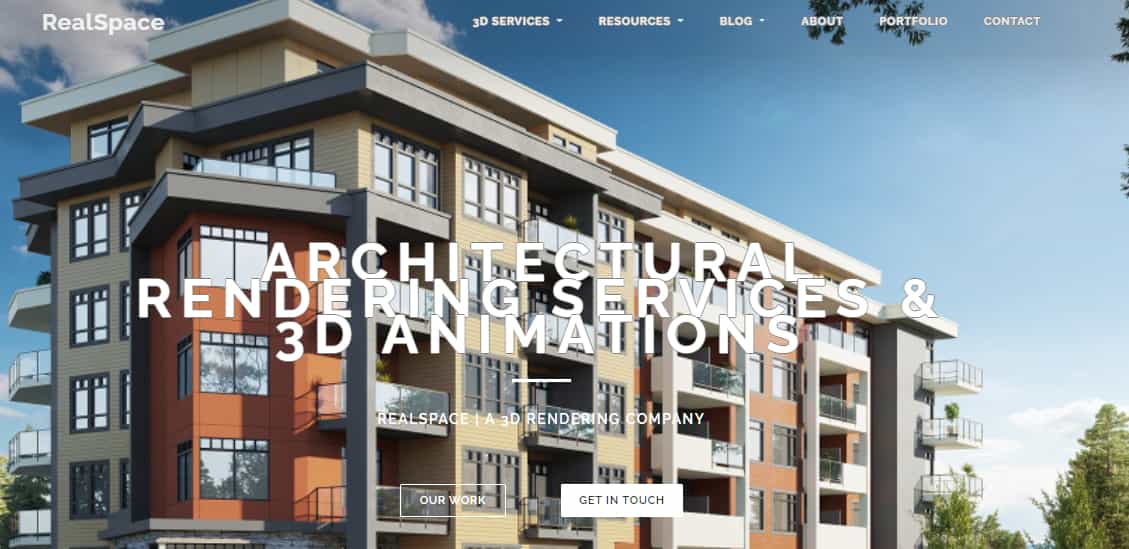 RealSpace is a Vancouver-based studio with over 12 years of experience in creating high-quality 3D images and animations. We specialize in creating photorealistic 3D environments and character animations for games, film, and television.
Their team of highly skilled 3D artists uses the latest technology to create stunning visual effects that are realistic and lifelike.
There are dedicated to providing our clients with the best possible service and quality products. Whether you need a single image or a complete 3D animation, RealSpace is the perfect partner for your project.
Brick Visual
Brick Visual is an architectural visualization company that specializes in creating high-quality 3D renders of buildings and interiors.
Their team of artists and architects has years of experience in the industry, and they use the latest software and techniques to create realistic images that accurately portray the client's vision.
Brick Visual has worked with some of the biggest names in the business, and its portfolio includes projects from all over the world.
Whether it's a new office building in London or a luxury apartment complex in New York, Brick Visual has the skills and experience to bring any project to life.
Studio Triple D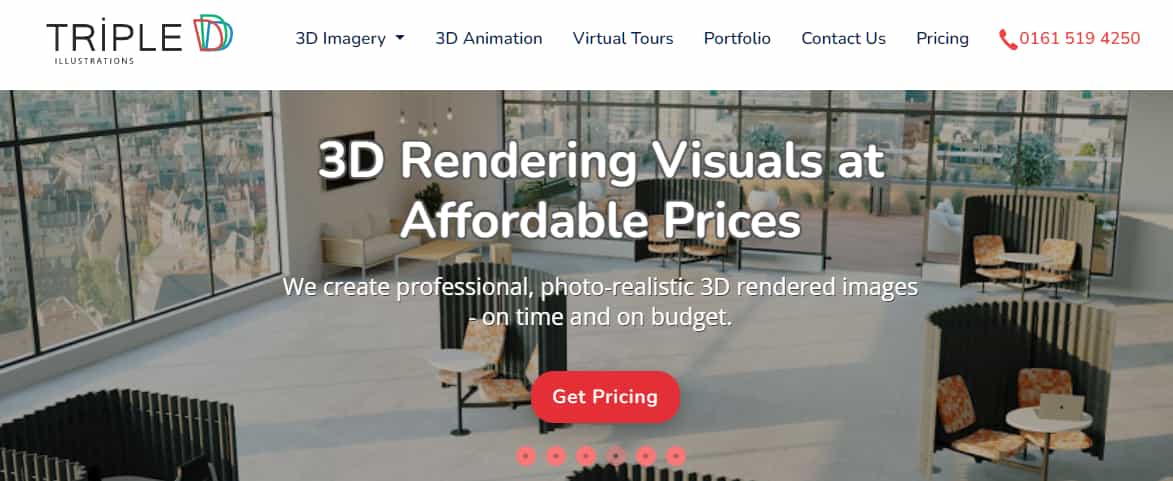 Studio Triple D is one of the leading 3d rendering companies, providing highly detailed floor plans and 3d models to customers in the US, UK, and Israel.
The company has a team of experienced 3D artists who utilize the latest rendering software to create realistic images that accurately reflect the client's desired project.
In addition to 3D floor plans, Studio Triple D also offers 3D walkthroughs and flyovers, allowing clients to get a virtual tour of their future space.
Whether you're looking to build a new home or office, or simply want to renovate your existing space, Studio Triple D can help you bring your vision to life.
VizSource
VizSource is a San Diego, California-based 3D rendering company that has completed projects for over 4000 clients worldwide. VizSource has a team of highly skilled artists who specialize in creating photorealistic 3D images and animations.
The company has worked on a variety of projects, including medical and architectural renderings, product designs, and simulations. VizSource is also one of the few companies that offer virtual reality (VR) services.
VR is an emerging technology that allows users to experience a computer-generated environment in a realistic way. VizSource's VR capabilities make it possible for clients to explore their project before it is built.
The company's fast turnaround times and high-quality work have made it a trusted partner for businesses and organizations all over the world.
Go3DViz
Go3DViz is a product rendering and visualization company that specializes in photo-realistic 3D product renderings for marketing, pre-visualization, and branding.
We utilize the latest in 3D rendering technology to create high-resolution images and videos of products that can be used for a variety of purposes.
Our services are ideal for businesses that want to give their products a realistic look without incurring the cost of photography or videography.
We also offer a wide range of customization options to ensure that our client's products are accurately represented.
Whether you need a single image or an entire video campaign, Go3DViz is your one-stop solution for all your product rendering needs.
ARCHI CGI
ARCHI CGI is a 3D rendering company based in the United Kingdom. The company has been in business for over 10 years and has produced high-quality 3D renderings for a variety of clients, including architects, interior designers, and construction companies.
ARCHI CGI is considered the best 3D rendering company in the UK because of its attention to detail, its use of cutting-edge technology, and its commitment to customer satisfaction.
The company's renderings are realistic and accurate, and its customer service is outstanding. If you are looking for a 3D rendering company that can provide you with high-quality results, then ARCHI CGI is the company for you.
XR3D Studios
XR3D Studios is a company that provides professional 3D architectural renderings and animations. They have been in business for over 15 years and work mainly with companies out of the US and Canada.
Their services are used by both small and large companies. 3D architectural renderings are used to create a realistic representation of a proposed design. They are often used in planning and construction projects.
Animations are used to show how a proposed design would move or function in real life. XR3D Studios has the experience and expertise to create high-quality 3D renderings and animations that can help your company succeed.
Contact them today to learn more about their services.
Easy Render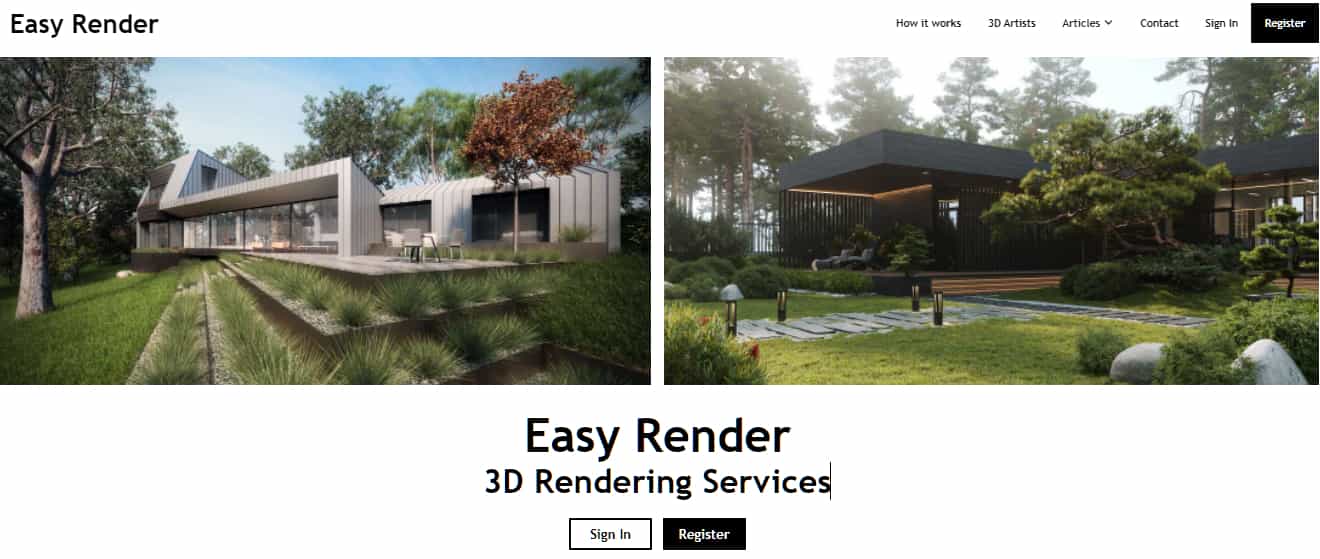 Easy Render is a 3D rendering company that helps to connect architects and designers with talented 3D rendering artists. The company offers a streamlined job-finding service that is tailor-made for the rendering and visualization industry.
Easy Render helps to match architects and designers with rendering artists who have the skills and experience needed to complete the project.
The company also provides support throughout the process, from initial contact to project completion.
Easy Render's services are designed to save time and money and to ensure that projects are completed to the highest standards.
Studio57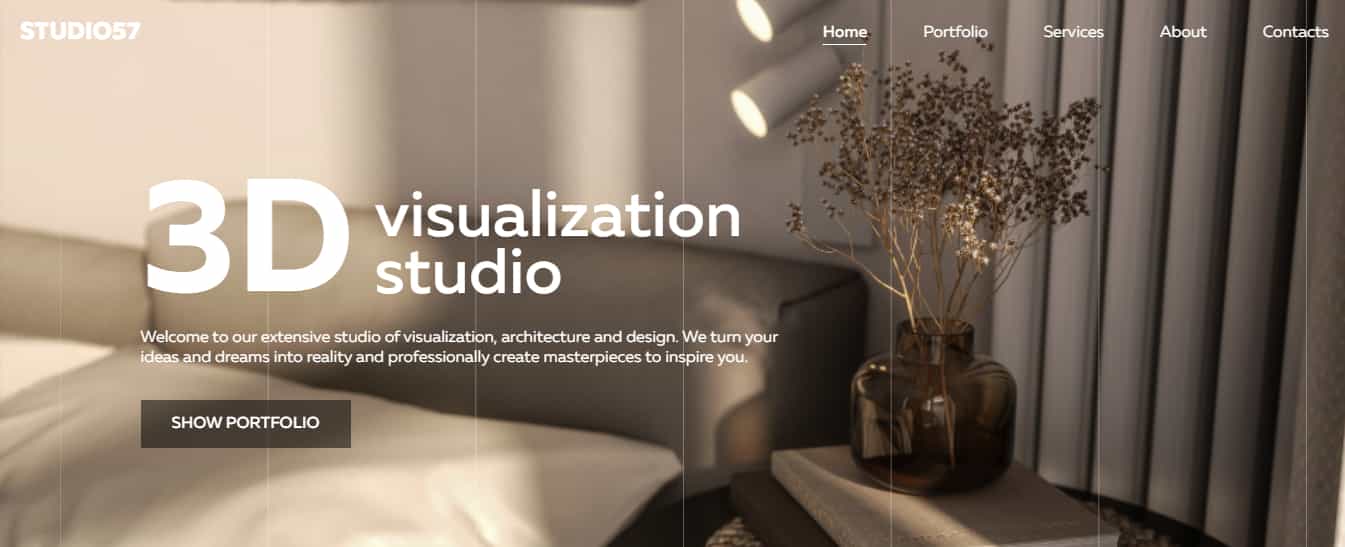 Studio57 is a large visualization, architecture, and design studio with a team of more than 97 talented creators.
The company was founded in 2016 in Minsk and has been growing ever since, having offices in New York and London, working successfully, and creating projects around the globe.
The studio is best known for its photorealistic architectural and interior visualizations but also specializes in 3D modeling and VR experiences.
The team's diverse skill set and experience allow them to take on projects of any size and scope, delivering high-quality results that exceed clients' expectations.
Whether you're looking to bring your dream home to life or need help visualizing a complex commercial space, Studio57 is the perfect partner for your next project.
Render 3D Quick
Render 3D Quick is a top-rated 3D rendering company that offers a wide range of services to help you visualize your projects.
With their online 3D modeling, you can create 3D architectural renderings for construction and building projects, 3D aerial renderings for prospective investors, 3D interior renderings for home renovation projects, and much more.
They have more than 400 reviews on Google My Business, which attest to their quality of work and customer satisfaction.
In addition, their team of experts is always available to answer any questions you may have about the rendering process.
As a result, Render 3D Quick is the perfect choice for anyone looking to create high-quality 3D visualizations.
Render Vision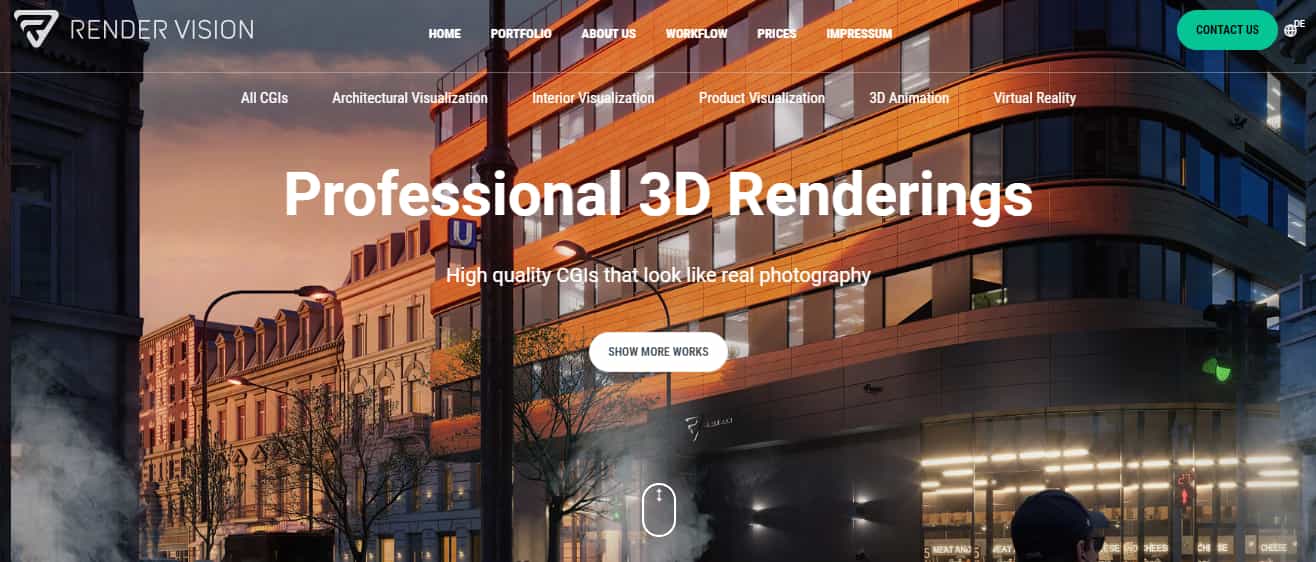 Render Vision is a 3D agency that embodies quality and outstanding service. We utilize the latest in 3D technology to provide our clients with innovative solutions that meet their specific needs.
Whether it's creating a virtual tour of a proposed development or developing a custom 3D animation, we are dedicated to helping our clients visualize their projects in the most realistic way possible.
In addition to our cutting-edge technology, we also offer a full range of traditional rendering services. Our team of experienced artists can create stunning hand-drawn sketches and detailed illustrations that bring your designs to life.
No matter what your vision may be, Render Vision has the skills and experience to make it a reality.
Applet 3D
Applet 3D is a Philadelphia-based company that provides 3D renderings for a wide range of clients.
We specialize in creating detailed 3D animations and visualizations, from simple house design renderings to complex product demonstrations.
Our team of experienced artists and designers has a passion for detail and a commitment to quality, which has earned us a reputation as one of the best 3D rendering companies in the business.
In addition to our high-quality work, we pride ourselves on our customer service and our ability to meet deadlines.
We understand that your time is valuable, and we will work tirelessly to ensure that your project is completed on time and to your satisfaction.
Rayvat Engineering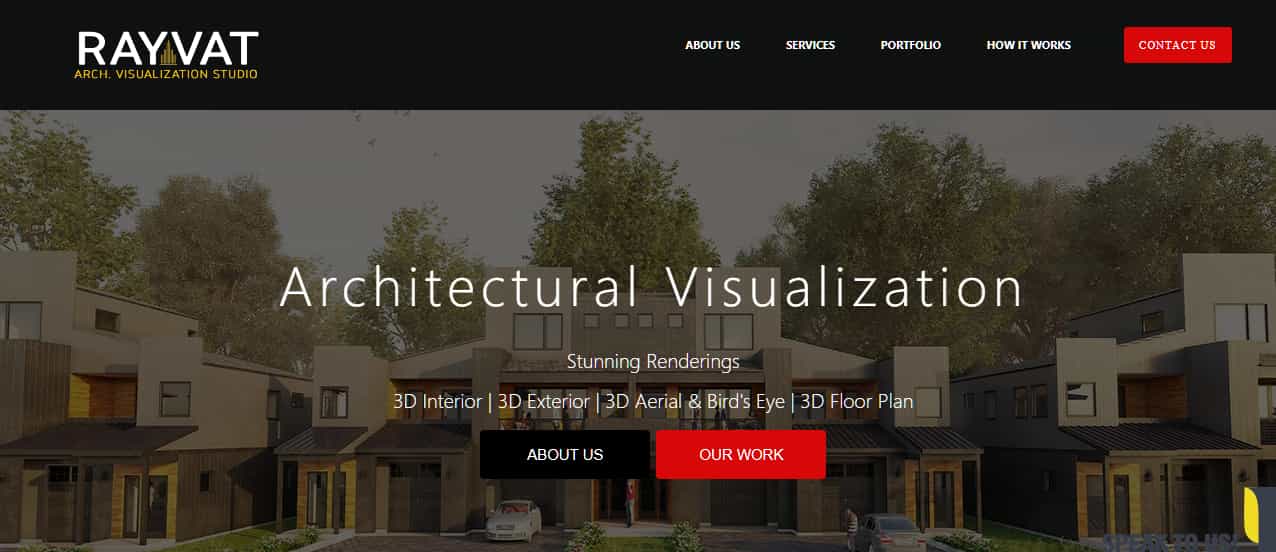 Rayvat Engineering is a leading CAD Drafting & Modeling Company established in the year 2008. We are a part of Rayvat Group, which is a well-known name in the industry.
Over the last decade, we have carved a niche for ourselves in focus areas like 3D Stills and Architectural Visualization CGI.
We have a team of highly skilled and experienced professionals who are capable of handling all your drafting and modelling needs. With our quality services, we have been able to Satisfy more than 10,000 clients spread across the globe.
So, if you are looking for a reliable and affordable CAD Drafting & Modeling Company, then Rayvat Engineering is the right choice for you.
Yousee Studio
YouSee is a dynamic 3D visualization studio, operating globally in interior and exterior renderings, 360 virtual tours, 3D floor plans, architectural animation, VR, and AR. Our team embodies youthful enthusiasm and seasoned expertise, always embracing innovation and cutting-edge technology. Infused with natural curiosity, we approach each project as an opportunity to create captivating art. In our pursuit of excellence, we consistently deliver photorealistic CGI that surpasses expectations.
How to choose the best 3d rendering company?
When it comes to choosing a 3d rendering company, there are a few things you should keep in mind.
First, be sure to check their portfolio to see if they have experience with the type of project you are looking to have rendered.
Second, ask for quotes from multiple companies in order to get a sense of the going rate for the services you require.
Finally, be sure to read online reviews before making your final decision.
By following these simple steps, you can be confident that you will find a reputable and experienced rendering company that can provide you with the high-quality results you are looking for.
What are the Types of 3D rendering studios?
There are 3 different types of 3d rendering studios: 3D architectural rendering companies, 3d rendering firms & Visualization Companies
1) 3D Architectural Rendering Company: They create realistic visualizations & Renderings for architects, designers, builders, sales managers, homeowners, and others. They are also called architectural CGI companies
2) 3D Rendering Firms: They provide visualization & Rendering for the Gaming & Movies Industry. But in some cases, they also provide all visualization & rendering for all types of industries like real estate. For that reason, many firms, called them architectural rendering firms as they specialized in the architecture industry.
3) 3D Visualization Companies: These companies help different brands to promote their products. They provide a 3D rendering of products, fashion, accessories, furniture, etc. This is something we often find on online shopping sites.
This type of 3d rendering really helps their customers to see to product carefully because they more realistic compared to normal photography. They are also called 3D Product Rendering companies.
Benefits of working with 3D Rendering Studio
More Realistic Images:
3D rendering studios can create images that are much more realistic than those created by traditional methods. This is because they can create images from multiple angles and with a high level of detail. This allows for a much more accurate representation of the final product.
Faster turnaround time:
They can also create images much faster than traditional methods. This is because they do not need to wait for physical models to be created. Instead, they can create images directly from computer-aided design (CAD) files.
Increased flexibility:
They s also offer increased flexibility when it comes to creating images. This is because they can make changes to the images at any time, without having to wait for physical models to be created. This allows for a quicker and easier way to make changes to the design.
Reduced costs:
Working with a studio can also help to reduce costs. This is because there is no need to pay for the creation of physical models. Additionally, 3D rendering studios often offer discounts for bulk orders.
Better communication:
Working with them can also help to improve communication between designers and clients. This is because the studio can provide clients with realistic images of the final product, which can help to avoid misunderstandings about the design.

FAQ's
What is a 3d architectural rendering studio?
A 3D architectural rendering Services studio is a type of business that creates three-dimensional images of proposed buildings or other structures.

These images can be used for marketing purposes, to show potential buyers what the finished product will look like, or for planning and construction purposes, to help visualize the project and ensure that all components fit together properly. 

Rendering studios typically use specialized software to create their images, and may also outsource some or all of the work to freelancers.

In recent years, the use of 3D rendering has become increasingly commonplace in the architectural world, as it provides a more realistic and accurate portrayal of a building than traditional two-dimensional drawings.
How to choose a 3D rendering company?
Prioritize experience, portfolio quality, client reviews, and communication skills. Check if they specialize in your industry and have the necessary software and hardware to handle your project efficiently.
Is 3D rendering business profitable?
Yes, it can be profitable, especially with increasing demand in industries like architecture, real estate, gaming, and product design. Offering high-quality and timely services is key to success.
What is a rendering company?
A rendering company specializes in creating realistic 3D visualizations of objects, spaces, or scenes using computer software. They cater to various industries and help clients showcase products or designs before they are physically created.
Conclusion:
There you have it! The ten best architectural 3D rendering companies in the business.
Whether you're looking for high-quality visuals, competitive pricing, or outstanding customer service, these companies are sure to deliver.
So what are you waiting for? Contact one of these firms today and take your project to the next level.
Thanks for reading!